The first project meeting take place in Estonia / Lihula 1th - 4th December 2010.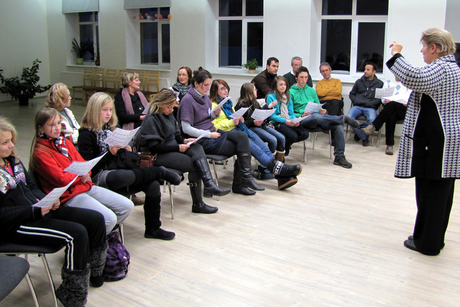 The Piia´s photos from Estonia you can see
here
.
Video about meeting in Lihula you can see
here
.
English group memories from Estonia you can read from Whitecross School Newsletter
Dec.2010
Spanish group memories from Estonia are
here
.
Overview about Slovenian group exhaustive preparing for Estonian visit you can see
here
.
AGENDA
1.Dec.

14.10– Piia meet in Tallinn airport Patricia & co from UK

Pat have free time in Tallinn until 18.00 (your luggage stay in bus)
16.00 - Piia meet Klavdija in hotel G9 (we take luggage)
17.30 Antonio & co arrive in Tallinn airport (somebody from Estonian team meet you)

18.00 – we (Klavdija, Pat, Piia & co) meet in restoran in Old Town

Dinner / restaurant "Kaera-Jaan" (Raekoja plats 17)
19.30 – depart from Tallinn to West-Estonia. Lihula is 110 km far.
21.15 we are in Lihula
pupils meet host-familys
bus for the teachers to hotel Oidremaa (8 km from Lihula)
2.Dec.

8.30 -12.30 pupils attend in schoolwork (gymnasium)
9.00 teachers meet in our School of Music and Art

visit our school
9.30 Polisc group arrive in Lihula

10.00 coffee break, preparation the projectwork
10.30 start the projectwork
Piia – rules of procedure (agenda, generalplan)
Mr.R.Erismaa - greetings from head of local government
Patricia – project (line of flight) until this moment
maybe all participants say few words about Comenius in own organisation..?
12.30 we must stop and go to lunch, we meet pupils in gymnasium
13.00 lunch
14.00 visit the school (gymnasium)
15.00 we are bac in music-school
preparing to perfomance in hall (presentations, music ...)
16.00 perfomance in music-school hall
Estonian presentation "Mardipäev" and all participants (a´10 min)
After presentation pupils go to hostfamilys.
18.45 – For teachers bus to hotel Oidremaa
dinner in Oidremaa
free microphone, entertaiment

3.Dec.

8.30 - 11.10 pupils attend in schoolwork (gymnasium)
9.00 teachers meet in our music-school
projectwork (chair by Patricia)
next collective and particular plans, activity, logo, meetings, .... (we must transcript)
10.30 cotee break
12.00 we meet pupils and all together visiting center of Matsalu National Park in Penijõe (3 km from Lihula)
13.30 lunch
14.30 visiting Lihula museum
16.00 projectwork in music-school
webpage (why?, how?, possibilitys ...)
summary of project meeting
18.00 musical break, certificate to participants
19.00 dinner
20.20 depart the bus for Polisch group

3.Dec.

8.30 we leave from hotel Oidremaa, 8.45 we meet pupils in Lihula
10.30 we are in Tallinn airport (Pat depart from Tallinn 12.40)
Klavdija and Antonio have a free time in Tallinn.